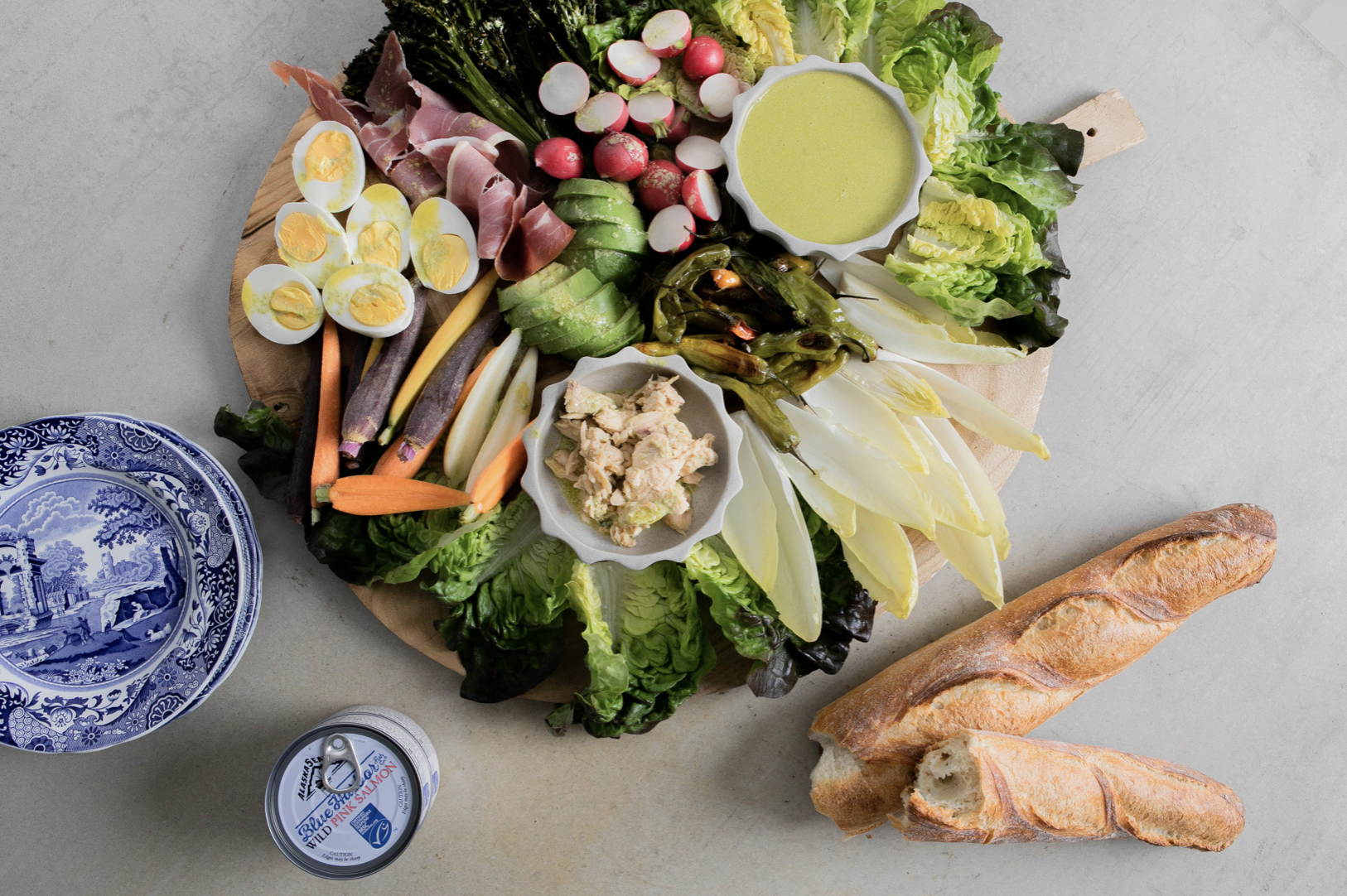 Blue Harbor Wild Salmon Grand Aioli
A Grand aioli is an elegant French dinner platter with garlicky aioli, vegetables prepared in different ways, fish, eggs, and meat. I genuinely feel like it is a grazing board that went to school abroad – and I'm okay with that. Gone are the days when we want to spend $200 on meat and cheese that goes to waste. Let's normalize serving graze boards that are packed with flavor AND nutrition. Instead of the usual shrimp, I used Blue Harbor Salmon Chunks soaked in the dressing, and WOW, was it delicious. 
Ingredients
Grand Aioli
2

cups

Shishito Peppers

1

Avocado

1

Endive

1

head

broccolini

3

eggs hardboiled

2

heads

Baby gems

1

can

Blue Harbor Wild Pink Salmon

1

package

Prosciutto

6

Radish halved

6

rainbow carrots halved  

baguette
For the Non-Aioli Dressing
1

clove

garlic, grated

1

tsp

Dijon 

1/2

tsp

salt

1/2

cup

finely minced fresh herbs such as cilantro, basil, flat-leaf parsley, chives, or tarragon

1/2

a lemon 

Juice of

1

cup

olive oil

1

tsp

canned salmon liquid, optional (in place of anchovy)
Instructions
Our only actual "cooking" is to roast the shishito peppers and broccolini – if you choose for them to join the party! And if you do, preheat the oven to 425, add the shishito peppers and broccolini to a foil-lined baking sheet, drizzle with olive oil and flaky salt, and bake for about 20-25 minutes until charred and you can hear the shishito peppers steaming

Next make the non-aioli. I call this a non-aioli because the truth is, making aioli is NOT as easy as people make it, there is an art, and quite frankly, I don't like handling raw eggs. If you prefer an aioli, add an egg yolk to the above ingredients. 

Prep all your components: hard boil the eggs, wash and slice the veggies, or don't! This is where you use your heart. If you don't like prosciutto, use pastrami! 

Drain the Blue Harbor Salmon, and in a bowl, gently toss it in some of the dressing. Add to a beautiful small bowl. 

Then get to work on making this thing look like magic! This is fun for kids also, so bring them in to arrange.

Once arranged, give all the components a drizzle of the non-aioli and put another dish on the board. Serve with small plates and a loaf of crusty bread, and WOW your guests. Healthy, nutritious, delicious, and very affordable. 
Notes
This recipe calls for the Blue Harbor No-Salt Added Wild Albacore Tuna, but if you can only find the version WITH salt, omit half the salt that the recipe calls for. An easy fix when dealing with high-quality products!