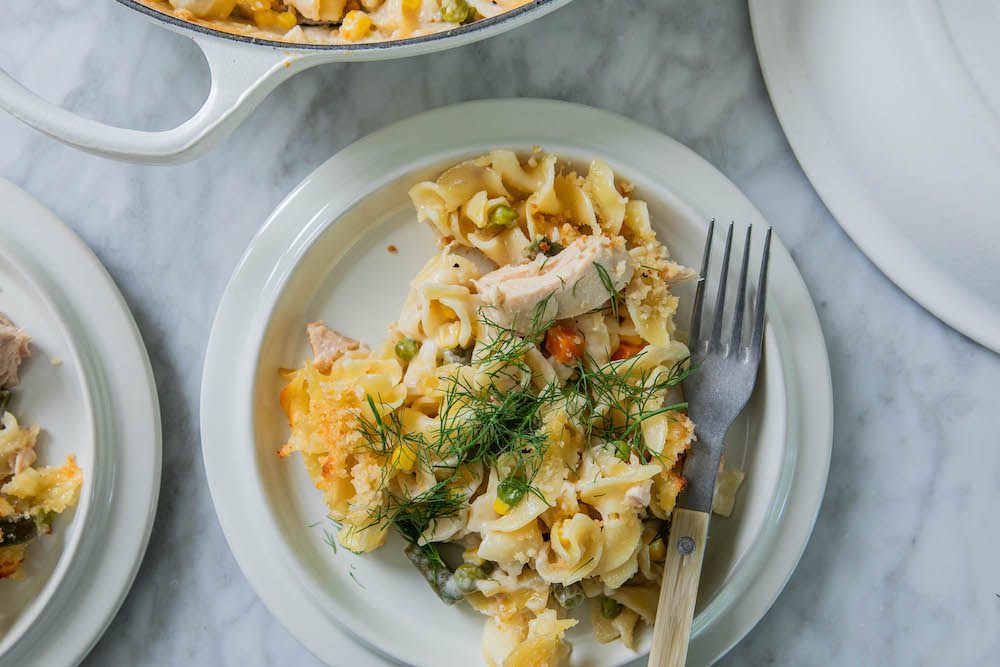 Cleaned Up Tuna Casserole
TUNA CASSEROLE 🥘 but make it clean and with @blueharborfishco. This retro classic is re-invented with better-for-you ingredients and lots of flavor using everyday ingredients. Kiddo and family-friendly, try this tonight!
Ingredients
1

tbsp

butter or oil

1

large

shallot (or ½ cup)

2

cups

frozen organic vegetables – we used frozen peas, carrots, and corn, but you can also use fresh

1

tsp

salt

1

tsp

pepper

2

cans

organic coconut milk

1

cup

water

1

bag

egg noodles

3

cans

Blue Harbor Wild Albacore

2

cups

grated sharp cheddar

1

cup

panko or crushed crackers (optional)
Instructions
Preheat the oven to 350 degrees. In a large cast iron pan (with a lid) – we used the 30-inch Le Creuset Braiser,  melt butter and saute the onion or shallot for 2-3 min.

Add the frozen veg and cook for another 2 min on medium until cooked.

Add both cans of coconut milk, mix together, then add in the pasta and 1.5 cups of cheese.

Pop in the oven with the lid on for 30 minutes. 

Remove from the oven, gently flake in large chunks of the tuna. Stir to combine. Sprinkle with the remaining cheese and the bread crumbs.

Put it back in the oven for 15-20 minutes until the cheese is melted and the breadcrumbs are golden brown! 

Set it for about 10 minutes, and then serve with some fresh dill! Yum!