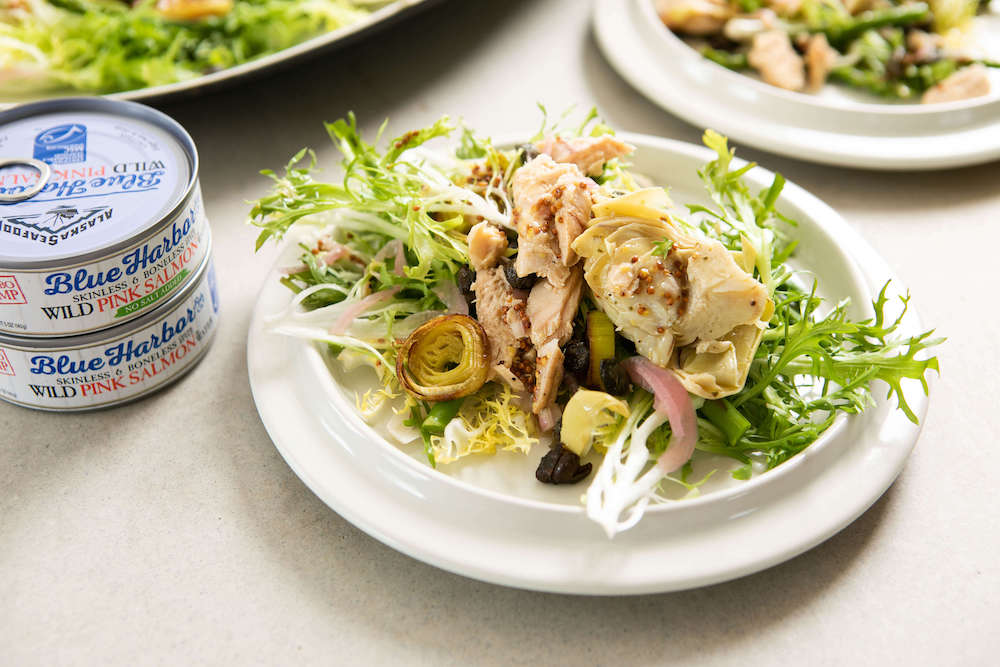 Salmon & Spring Vegetable Salad
This salad can not be topped. This is an entree salad that will keep you wanting more. All the different components come together in a flavor marriage you will keep discussing. Crispy capers, charred leeks, perfect Blue Harbor Salmon Filets, and a mustardy vin!
Ingredients
1

head

of frisee (or two small)

1

bunch

asparagus

2

leeks washed

1/4

cup

capers

1

can

Artichoke hearts

2

cans

Blue Harbor Wild Salmon (no salt added)
Grainy Mustard Vin
2

tbsp

grainy mustard

1/4

cup

Sherry or champagne vinegar

1

tbsp

finely diced shallot

1

tbsp

maple syrup

Salt + pepper
Instructions
Preheat your oven to 425 degrees. Foil line a baking sheet. Add water to a small pot and bring to a boil.

Start by prepping all the components: wash and dry the frisee, cut the asparagus into 1-inch pieces, wash and clean the leeks and slice into 1/4-inch rounds, drain the capers, and pat dry with a paper towel, drain the artichokes and salmon and lastly if you don't have pickled onions on hand — quickly make them: in a mason jar add two parts Apple Cider Vinegar to 1 part water with 1 tsp of salt and a thinly sliced red onion.Shake it and let it quickly pickle while preparing the salad!

Your water should be boiling by now, so add the asparagus and blanch for 2 minutes. Strain and rinse with cold water and set aside.

Add the capers and leeks to the foil-lined baking sheet and drizzle with olive oil. Bake for 25-30 minutes. Leeks should be browned, and capers should be crackling and crispy.

While the leeks and capers are baking, make the vinaigrette – it is so easy to add all the components to a mason jar or dressing bottle, give it a vigorous shake, and voila – taste for balance and adjust as needed — dressings are tough because sometimes kinds of vinegar are more potent then others or olive oils are more robust, so give it a taste!

Now assemble the salad, the fun part! Layer on the frisee, then the asparagus, leeks, and artichokes. Then flake the Blue Harbor Wild Salmon chunks onto the salad and garnish with the capers, pickled red onions, and a drizzle of the dressing. Incredible!
Notes
This recipe calls for the Blue Harbor No-Salt Added Wild Albacore Tuna, but if you can only find the version WITH salt, omit half the salt that the recipe calls for. An easy fix when dealing with high-quality products!