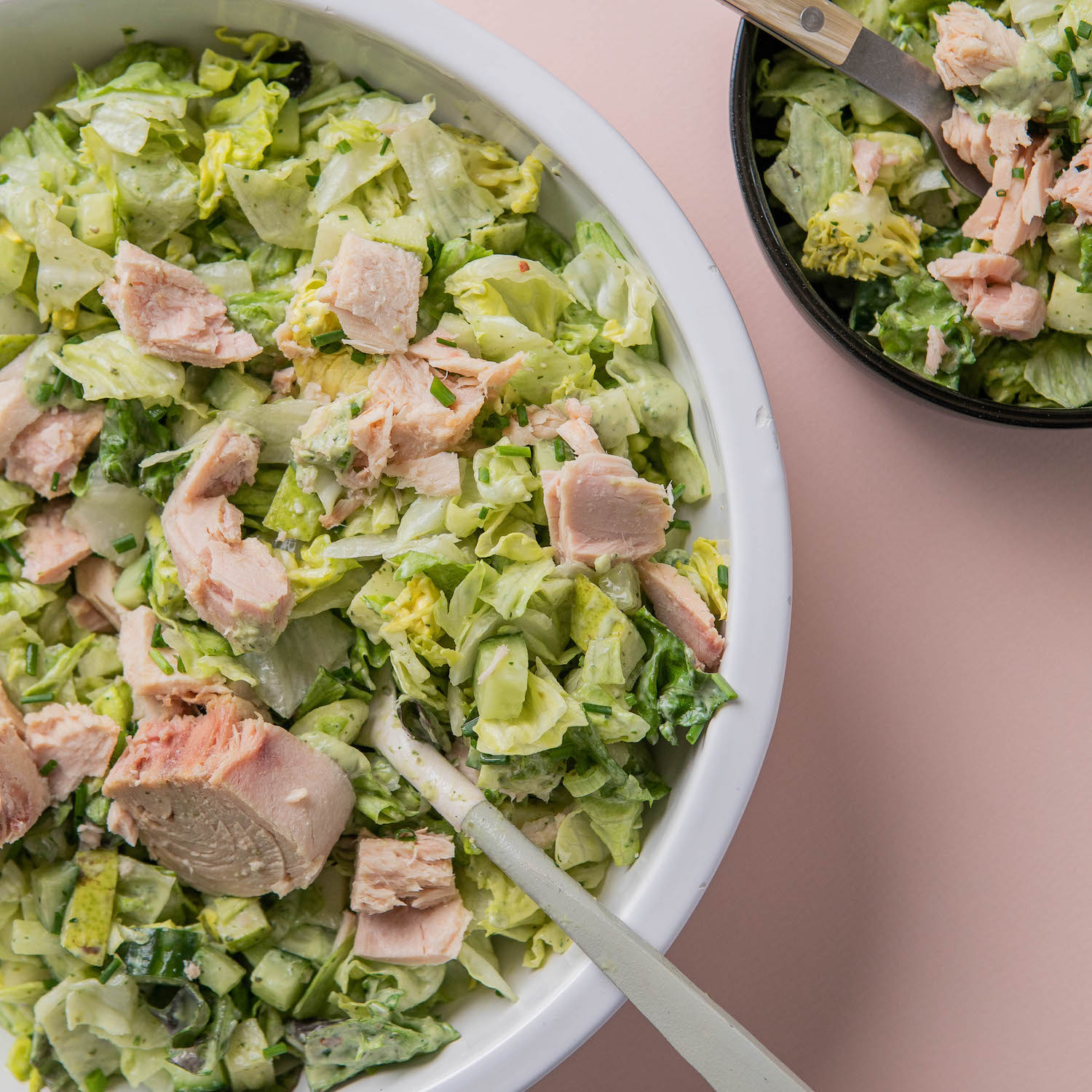 Green Goddess Tuna Salad
This green, delicious, spa-like salad couldn't be more perfect. Thanks to our Blue Harbor Tuna, we are protein-packed and crunchy, crisp, cool, sweet-ish, and herbaceous! This is the ultimate best of all-worlds healthy salad! The almost-ripe pear is also a welcome surprise. I insist you try it. I believe in not over-treating the tuna either; it perfectly melds with all the flavors.
Ingredients
1/2

head

iceberg lettuce

2

cups

romaine or baby gems

3

scallions

2

green Pears

lightly ripened

1

whole English Cucumber

3-4

Blue Harbor Wild Albacore no-salt-added Tuna

1 per person

1/2

cup

green goddess dressing

recipe below
Green Goddess Dressing
1

avocado     

1/2

cup

Greek yogurt 

1

lemon

1

cup

fresh parsley, basil, mint, chives, and tarragon

1

tbsp

Capers

1

tbsp

Dijon

1

tbsp

extra virgin olive oil 

1

tsp

salt

1/2

tsp

pepper

2

tbsp

water 
Instructions
Start by making the green goddess dressing in a food processor: add all the ingredients and blend until smooth. I prefer a little thicker to latch onto the salad components, but if you want to make it thinner, use a little water, 1 tbsp at a time.

Then prep all your salad Ingredients: I like to chop the lettuce, pear, and cucumber into "cubes" roughly the same size, thinly slice the scallions and drain the Blue Harbor Tuna.

Add everything but the tuna to a large salad bowl, and top with 1/2 cup of the green goddess dressing. Loosely and gently flake the tuna onto, give it another drizzle of the dressing, and that is it.  
Notes
This recipe calls for the Blue Harbor No-Salt Added Wild Albacore Tuna, but if you can only find the version WITH salt, omit half the salt that the recipe calls for. An easy fix when dealing with high-quality products!
My ethos for cooking is good, QUALITY ingredients, which is why I choose Blue Harbor Fish Co. Blue Harbor products are MSC certified — for those that don't know, it's the Marine Stewardship Council (MSC): a global certification program that recognizes sustainable fishing practices and supply chains that are keeping oceans healthy for generations to come! We are what we eat!